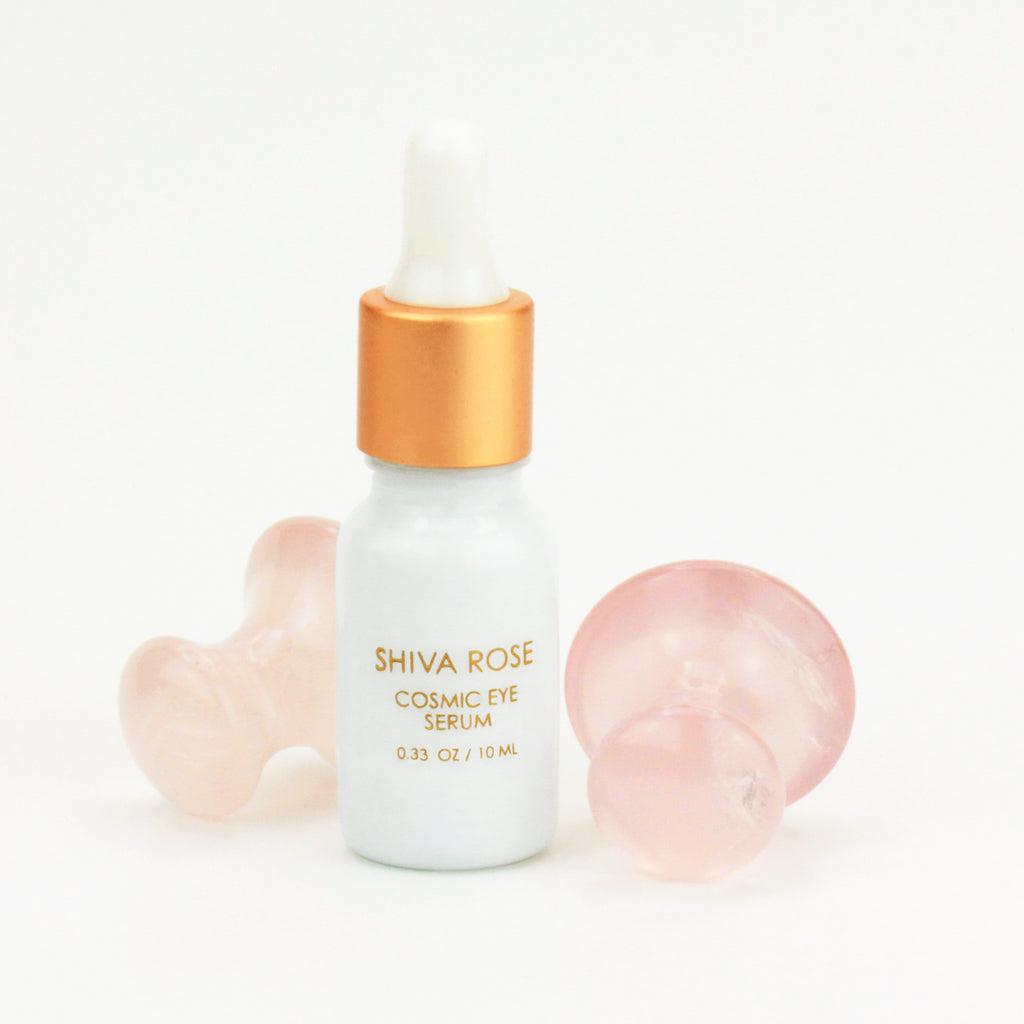 Cosmic Eye Kit
$80
Get your eyes, the windows of the soul back to their cosmic gaze. Rose quartz tools specially designed to de-puff the under & upper eyelids. An all-natural way to get an eyelift, to get the lymph system to release stagnated fluids. Cosmic Rose quartz, stone that promotes healing, love & heart, makes up these unique bud shapes that with use, can help with absorption of products. Used with the powerful Restore Eye serum, to decrease inflammation, lessen wrinkles, promote plump, healthy tissue in the delicate areas around the eyes. Eye Bright oil protects against oxidative damage, Carrot seed oil is rich in vitamin A and E. Arnica & cucumber reduce puffiness, swelling. Olive, avocado & hyaluronic will plump eye area. Blue butterfly flower is a wondrous flower, with high anthocyanin that prevents wrinkles and promotes elasticity.
Organic Olive Oil (Oleum de arboribus olivarum), Avocado oil (Persea gratissima), Hyluronic acid , Carrot seed oil (Dacucus carota), Eye bright oil (Euphrasia), Cucumber seed oil (Cucumis sativus), cranberry seed oil (Vaccinium macrocarpon), Barberry Fig Oil (opuntia Ficus Indica), Roman Chamomile oil (Matricaria recutita), licorice and tulsi soaked in sun ripened Calendula Oil (Calendula officinalis),  Arnica essential oil (Arnica Montana), Butterfly Pea Flower (Clitoria Ternatea), Honeysuckle (Cissanthemos).
For an even more powerful restoration of the eye tissue, place the rose buds in the freezer. 
Begin by placing a few drops of the Restore Eye Serum around the cheekbones and eye areas. Then take the Rose quartz tools from the freezer, and gentle massage under the eyes. Start the massage from the inner part of lower eyelids, and move outwards. Do this in smooth, slow movements and then move to the upper areas. You can also massage the whole face, around the hollow of the cheekbones to create a sculpted look using the Rose Face oil or Restore Serum.