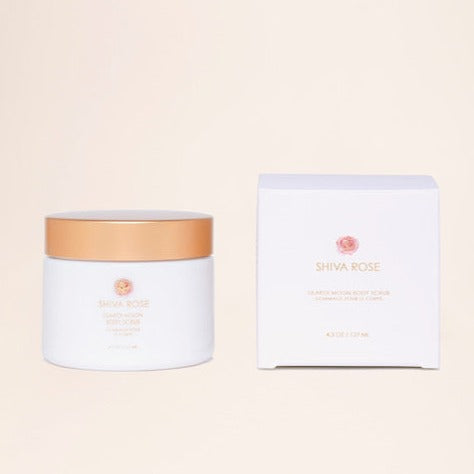 Lilakoi Moon Body Scrub
$50
Named after a goddess sister, inspired by the lilikoi passion fruit of lush mother Kauai, this scrub will transport you to bliss. Gently exfoliate your limbs with luxurious oils, sensuous soft sugar, and exotic lilikoi passion fruit oil. Sugar a natural humectant retains moisture and is known to be a natural glycolic acid that helps to break down dead skin and support cell turnover. The beautifully beneficial oils like meadowfoam, borage, and evening primrose feed your skin and restore moisture to your skin. Lilikoi fruit oil is full of antioxidants, including vitamins A, C, and E. The super fruit oil strengthens the skin and is rich in linoleic acid. The scent of ripe fruit and woodsy resins makes your skin sweet and musky, reminiscent of island love under the moon.
Cane Sugar (Sucrose), Organic Shea Butter (Butyrospermum Parkii), Organic Jojoba Seed Oil (Simmondsia Chinensis), Meadowfoam Seed Oil (Limnanthes Alba), Rosehip Seed Oil (Rosa Canina), Organic Borage Seed Oil (Borago Officinalis), Organic Evening Primrose Oil (Oenothera Biennis), Vitamin E (Tocopherol), Sunflower Seed Oil (Helianthus Annuus), Guava Oil (Psidium Guajava),Resins of : Sandalwood (Santalum album), Benzoin (Quidem).
Cane Sugar 
Sugar, a natural humectant retains moisture and is known to be a natural glycolic acid that helps to break down dead skin and support cell turnover. Offering its gentle, granular texture to both invigorate and clear away deal skin cells while promoting rejuvenation. Softening and smoothing to the skin, as it clears away old layers, it allows all the other ingredients to penetrate and support the newer fresh layers of skin that will emerge. 
Organic Shea Butter
Tri Doshic, Hydrating, Rich, Nourishing, Grounding. Skin strengthening, deeply moisturizing, skin regenerating, collagen production stimulating, making it more supple, more alive, nourished, and radiant. 
Organic Jojoba Seed Oil
This beautifying and detoxing oil comes from an evergreen woody shrub plant that grows in the high deserts of California, Arizona, and Mexico. Jojoba oil is the only oil that resembles what humans make in their skin. Jojoba Oil is packed with almost all of the vitamins and minerals essentially needed for healthy hair and skin, namely, vitamin E, B-complex, copper, zinc, selenium, iodine, and chromium. It normally can be used by even those who are having sensitive skin without worrying for any allergic reaction.
Meadowfoam Seed Oil
Extracted from the seed of a delicate flower native to the Pacific Northwest, Meadowfoam Oil is praised for its lightweightness and anti-aging properties. Meadowfoam Oil is also supremely hydrating, leaving fine lines and rough areas plump and moisturized. A superior stabilizing oil, it extends the shelf life and aroma of the Pearl Rose cream.
Rosehip Seed Oil
Bask yourself in this native wild flower of the Himalayas and the Andes, cold pressed to preserve the naturally-occurring vitamins and essential fatty acids it contains, use it on your hair, skin, and nails. Rosehip seed oil has been cherished for centuries as a natural beauty enhancer and skin aid.
Rosehip seed oil was used amongst Greek goddesses as part of a daily skin care regiment for strength and elasticity. The naturally occurring vitamin C in this wonder oil helps diminish dark spots, and the naturally occurring vitamin A helps rejuvenate cells.
Organic Borage Seed Oil
Promotes energy, nourishing, alleviates skin problems, calms the brain, rejuvenates. Borage is good for cooling inflammation and clearing toxins. Increases resilience to stress and supports the adrenals. It has anti-inflammatory properties, and is used to relieve allergies, eczema, and other skin inflammation. Borage is the remedy for courage and optimism; it is excellent as a heart remedy and brightens the disheartened. It has been highly valued since the time of the Ancient Greeks, to lift the spirits, bring courage and quiets the nerves. 
Organic Evening Primrose Oil
Rejuvenating and rich in antioxidants, its ingredients are calming to skin disorders such as eczema, rosacea, acne flare ups.  Put on the body to stimulate blood flow to the heart, and help with fatigue. Rich in Omega 6's this oil gets into the cells of the skin to heal.  
Vitamin E
A natural preservative Vitamin E can help prevent cancer and aging by blocking free radicals from forming. Vitamin E can help reverse sun damage and lines. It is crucial to choose organic Vitamin E that isn't mixed with GMO soy bean oil. 
Sunflower Seed Oil
Sunflower oil was cultivated by American Indian tribes as far back as 3,000 B.C. to condition the skin and hair. Thanks to its calming and emollient properties, sunflower oil is rich in nutrients and antioxidants; it is widely used for medicinal purposes and is found to be effective against acne, eczema, inflammation, and general redness and irritation of the skin. Sunflower oil is extremely high in Vitamin E essential for preventing damage to the skin cells by the ultraviolet light or UVA from the sun.
Guava Oil
Guava oil is incredible for helping to keep skin deeply hydrated and nourished. It is helpful in dissolving discoloration and reducing the appearance of scars and stretch marks. Protective against signs of aging, Guava oil helps to smooth fine lines and preserve the skin's natural elasticity. 
Benzoin
Benzoin is used to treat dry and cracked skin and has amazing healing properties that sooth and aid in the protection of the skin. Reduces inflammation and irritation and is profoundly calming. 
Resins of : Sandalwood
Sandalwood is known to aid skin and heal almost any skin issue. From clearing blemishes, to evening skin tone, shrinking pores, and maintaining elasticity, and balancing oil production. Sandalwood brings deep nourishment to the skin, helps to heal discoloration and scars, brings down inflammation or irritation, and helps fill in fine lines and brings cellular buoyancy to the skin. It is also deeply soothing and very good for treating sunburn. 
Dip your fingers in the Lilakoi Moon jar and put some in the palms of your hands. Take a deep inhale and feel the sweet, healing, joy of lilikoi fruit. Then use the sugar scrub to gently exfoliate your beautiful body either in the shower or bath. After rinsing envelop yourself in the Nectar Body oil or Golden Sol Body butter for a rich, sensual tropical experience. Can be used for Full Moon or New moon Bath rituals to release old skin and energies.